Genetec Automatic License Plate Recognition (ALPR)
Greater Efficiency with Industry Leading ALPR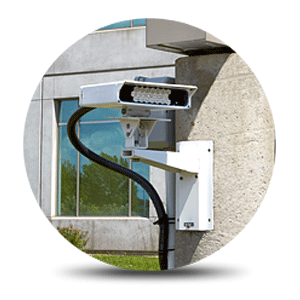 The Genetec AutoVu automatic license plate recognition (ALPR) system automates the collection and identification of vehicle plates, providing an easy and rapid solution for law enforcement and parking control agencies to detect vehicles of interest.
Genetec AutoVu enhances your security system by automatically identifying and tracking vehicles accessing your facilities.  AutoVu increases situation awareness and supports investigations with powerful reporting capabilities. It works with video surveillance, access control, and other security systems within Genetec Security Center.
Key Features
Fuzzy Matching:

Ensure that even if a read is imperfect due to dirt or snow accumulation, operators are still getting the best possible matches of every license plate. Fuzzy matching analyzes incomplete license plate reads and alerts you to any potential matches or infractions based on the configurable fuzzy matching parameters.

In-Vehicle Maps:

Use visual maps from the AutoVu Patroller in-vehicle interface and  the Security Center back-office, to not only easily visualize the location of a read but also generates a specific location such as a street address and perform geographic research.

Image, Time, Date, GPS Coordination, and Address With Every Read:

Instantly receive all ALPR information such as license plate images and reads, image of the scanned vehicle, time stamps and GPS coordinates of the read's location, which are also then reverse-geocoded to provide a street address. Later, this data will help you support investigations and respond to infraction disputes.

Live Wireless Communication Between Patrol Vehicles and Back-Office:

Stay up-to-date with the latest permit data or wanted vehicle lists through  live wireless updates of ALPR reads and hits. Using the Security Center client, officers can remotely monitor one or more fixed and mobile ALPR units, or specific hotlists in real-time.

Third-Party Integrations:

Integrate AutoVu with other software applications to fit within existing workflows and operational processes thanks to its advanced SDK.

Digital Chalking:

Eliminates the need to manually chalk vehicles when enforcing time-limited rules by allowing AutoVu to record  a vehicles' position and license plate as you drive by. When you return to a zone for a second pass, AutoVu will compare the position of vehicles read against their "first seen" position. Vehicles that are found to be in violation of local time limit rules, including same position, blockface or district time limits, will be flagged to the operator.

IT-less Deployment and Maintenance:

Free up your IT resources and speed up your deployment with a hosted system using AutoVu Managed Services. With AutoVu Managed Services, Genetec technicians configure your system ahead of deployment and handle maintenance and updates for you, freeing up your IT staff and ensuring your system performs at peak efficiency.