How to Achieve In-Person Video Collaboration from the Cloud…
Jul 17, 2012
BY MOLLIE DOBERSEK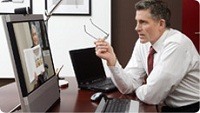 In today's globalized marketplace colleagues, partners, and customers are often separated by long distances or by conflicting, busy schedules. TelePresence, the next generation of videoconferencing, solves this problem by creating an "in-person" experience. Video Conferencing is now available and delivered by Cisco WebEx TelePresence, through the cloud.
Cisco WebEx TelePresence delivers an affordable, reliable, and highly secure video collaboration experience from the cloud. It includes a rich set of features specifically designed to help growing businesses make the most out of their business relationships.
As a Cisco Gold Partner, DataVox will make sure your users get the business-critical collaboration applications directly from the Cisco WebEx cloud. These services then help you to collaborate in a reliable and highly secure manner — when, where, and how you need to. And as your needs grow, a cloud deployment helps ensure scalability and affordability too.
Specifically designed for you to video call with your colleagues, partners, suppliers, and customers who use the WebEx TelePresence network or other compatible networks, allowing you to easily include multiple participants in your video calls.
WebEx TelePresence supports a selection of Cisco's best-in-class telepresence endpoints and the Cisco Jabber Video application that works on a webcam-enabled computer. This creates an "in-person" experience for any business scenario – in the office or even while mobile.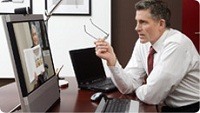 Cisco WebEx TelePresence Supports:
High quality audio and video experience (up to 1080p HD video resolution) so you can meet "in-person" with your colleagues, suppliers, partners, and customers.
Up to nine participants on the WebEx TelePresence network in your video calls.
Simple activation of your telepresence systems over the Internet with no complex setup or installation required.
Video calling on PCs and Macs for your team members on-the-go and for your remote workers.
Company directory that updates when you add subscriptions and is easily modified to add additional contacts you talk to outside your business.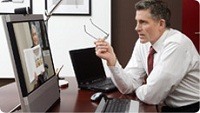 Customers from every industry are using telepresence to reduce travel costs, boost productivity, and accelerate decision making. But that is just the beginning. Imagine starting a new line of business from your desk! Allow your employees to scale their expertise so they can grow their careers without having to move, or showcasing your product line to a national audience from your existing demo environment. With Cisco WebEx TelePresence you can start to fundamentally change the way you do business and create new revenue opportunities.
Getting started takes just a few steps! When you're ready, or even if you are just curious to learn more, contact our knowledgeable staff at DataVox to assist you. They can help you choose the endpoints that fit with your environment and business needs.
Easy implementation and an expansive set of user features means you can stay focused on growing your business.