Cisco SMARTnet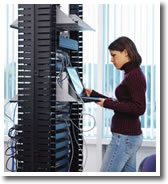 Cisco SMARTnet Service is an award-winning technical support service that offers direct, anytime access to Cisco engineers and an extensive range of technical resources. SMARTnet delivers rapid issue resolution, flexible device-by-device coverage, and premium service options to help maximize operational efficiency.
Extend the Life of Your Network Assets
As your network grows and changes in response to business demands, Cisco® Technical Support Services help to accelerate your success. This flexible suite of Cisco support services is designed to meet your individual business needs and assist you in effectively managing your network services while controlling operational costs. Whether you require reliable day-to-day network support or immediate resolution of critical issues, Cisco Technical Support Services can be the trusted resource you can rely on to help you meet those business needs.
Award-Winning Service and Support – Cisco Technical Assistance Center
Available on the Web or by telephone, highly skilled Cisco Technical Assistance Center (TAC) engineers, including certified and CCIE® professionals, are among the best in the industry, offering:
Superior expertise in a broad range of technologies
Knowledge transfer resources to enhance your skills
Sophisticated call routing to the right experts
Cisco live collaborative sessions
Global support available in local languages
Online troubleshooting tools and support resources include:
Software Advisor—Features information and compatibility assistance
TAC Case Collection—Identifies and troubleshoots common problems
My Tech Support—Personalized Webpage with customized links
Output Interpreter—Provides problem resolution recommendations
Peer-to-peer online forums—Sharing with others in your industry
Technical Support Newsletter—Keeps you up-to-date and informed