Audio Visual Solutions
DataVox based in Houston, specializes in the Commercial Audio Visual design and installation. As Audio Visual solutions migrate to Digital Media, having an experienced technology partner has never been more important. Put our years of experience and network expertise to work for you. With a team of in-house AV Engineers and Network Specialists, DataVox has the unique ability to leverage our infrastructure expertise to design and install a seamlessly integrated collaborative media solution that is easy to use. Our programmers will work with you to translate your ideas into reality, creating the optimal user experience.
Offering Complete Audio Visual Integration Services
DataVox integrates Audiovisual Technologies from Leading Manufacturers:
Room Control Solutions
Video Conferencing
Commercial projectors, monitors and screens
Wireless presentation systems
Touch Screen Displays
Digital Signage Solutions
From single conference rooms to networked campus solutions, DataVox will work with your company to design and build the audio visual solutions that your company needs to communicate easily and effectively. Budget quotes, detailed drawings and planning consultations are all included to eliminate unnecessary costs after the project is complete.
Board Rooms & Conference Rooms
Enhancing Group Communications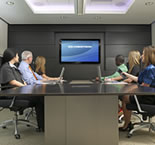 Our A/V conference rooms help organizations of all sizes improve their ability to communicate, share ideas and discuss topics of importance. DataVox provides and supports all the advanced tools of business communication, while consciously removing all the distractions advanced technology often presents. With advanced but simplified features, such as Crestron control panels with one-touch operation, there is no need for technical know-how and extensive training to use the systems we provide. Your staff can immediately benefit from advanced audio visual presentation systems, without previous user experience or extensive Audio video systems training. Our sophisticated, but simple to use Audio Visual systems are a great solution for organizations seeking modern conferencing capabilities. Contact DataVox today to discuss your particular needs and learn how your organization can immediately benefit from the tailor-made A/V conference rooms we provide.
Crestron DigitalMedia™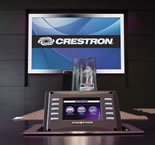 The Only Proven, Complete, Engineered Analog to Digital Solution
Today Digital HD Media is standard for the office. The latest laptops and HD Video Conferencing systems only feature HDMI/DVI outputs. For the best quality HD signal, you need Crestron DigitalMedia™ to allow you to walk into any conference, boardroom or training room, and simply plug in your laptop for meetings and presentations. Crestron DigitalMedia™ distributes uncompressed digital audio and video signals over a choice of CAT5e/6-based twisted pair copper wire or duplex multimode fiber cable. A full selection of switcher input cards, transmitters, and room controllers, provides extensive connectivity throughout the installation, supporting a complete range of analog and digital signal types.
Mondopad HD Tablet
The Giant Touch Tablet for Your Conference Room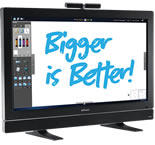 Present, annotate and collaborate on a giant tablet with meeting participants in a room in Houston and around the world. An InFocus® Mondopad™ puts everything you need to visually present, capture and share ideas at your fingertips – all beautifully integrated into a single device.
Multi-touch high definition 55 inch display
Flexible and expandable with built-in Windows PC
Digital interactive whiteboard and document annotation
Business-class video conferencing
Share, view and control from your tablet or smartphone
Full copy of Microsoft® Office ensures file compatibility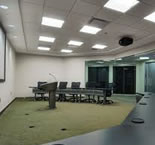 Training Room Solutions
Technology should enable communications and aid in the learning process – not stand in the way of it. DataVox integrates technologies to deliver an intuitive, "ease of use" solution to connect trainers and participants and make the educational experience more effective. Training room solutions include:
Video Conferencing for Remote Attendees
Multiple Audio and Video Inputs
Projectors, Monitors and Screens Custom Designed to the Training Facility
Interactive Smart Boards and Touch Screens
Control Systems to Integrate All Media Types
Touch Screens Allow Easy Control of All Media
Our integrated training solutions allow teachers and students to focus on the lesson, not the technology. Contact the experienced AV team at DataVox to build your training rooms today.
Video Conferencing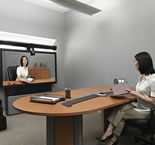 Video-Enabling Your Business
The world is changing, and DataVox is keeping pace with Cisco Tandberg's latest high definition Video Conferencing solutions for business! If everyone knew what video could do, they would want it. In challenging times, finding ways to work more efficiently is simply good business. That is what video-enabling your organization means. Everyone with access to business-quality video for the most natural communication. Face-to-face rather than place to place.
Wireless Presentation Systems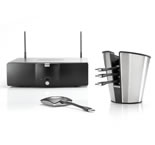 Wireless presentation and collaboration system
Wireless makes connecting to the meeting room's video system a matter of clicking a button. This one click wonder not only helps the presenter get the presentation onscreen in a second, but it also allows the other people in the meeting to participate more actively. The result is enhanced meeting efficiency and better decision-making. Learn More