How To Make "BYOD" Work For Your Company With Smart Solutions…
Jun 8, 2012
BY MOLLIE DOBERSEK
With the rapid adoption of mobile devices such as smartphones and tablets, the bring-your-own-device (BYOD) craze has been on the rise as employees desire to use them within the workplace.  It has been estimated that within the next four years there will be around 15-billion active mobile devices worldwide. As the number of devices being brought into work increases, organizations need a comprehensive mobility strategy in place.
By leveraging Cisco's Intelligent Network, organizations can now provide their employees with the benefits of working anywhere, at any time. The Cisco Unified Workspace creates an environment where workers can access all the people and resources they need for their jobs from anywhere and on any device while extending the power, security, and resilience of the network.
Cisco's Unified Workspace Smart Solutions are designed to help businesses gain the benefits of increased mobility in the workplace while reducing the associated complexities.
Included is the BYOD Smart Solution, which provides complete lifecycle management for BYOD, from securing data with a unified policy, enhancing collaboration tools for a greater user experience and simplifying operations with proactive management capabilities.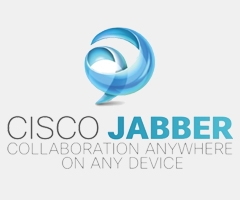 Collaboration across multiple devices is made easy with Cisco's Jabber. Jabber allows users to access presence information, instant messaging, voice, video, desktop sharing, and conferencing. You can even integrate with Cisco TelePresence from mobile devices.
Empower IT to provide an exceptionally flexible and secure workspace for fixed and mobile devices. The Cisco VXI Smart Solution goes beyond virtual desktops to deliver the new virtual workspace, including voice and video. It reduces risk and simplifies deployments through a validated and fully tested design that combines data center network, and collaboration architectures to deliver a superior collaboration and rich media user experience in a fully integrated, open, and validated desktop virtualization solution.
Smart Solutions from Cisco take customers beyond BYOD with three main benefits:
Unified Policy for Secure Access – A single policy secures data, applications, and systems across the entire organization and provides guest, posture, device profiling, network access, and Mobile Device Management. Cisco also provides data security in the network (on and off premises) to ensure intellectual property (IP) is protected.
Uncompromised Experience – End user productivity is maximized with leading collaboration tools and mission-critical wireless access.
Simplified Operations – Services from Cisco and our partners help simplify deployment, accelerate the business benefits of BYOD, and manage and lower operating costs so IT organizations can focus on innovation.
Unified Policy to Secure Data on Any Device:
Enhanced Cisco Identity Services Engine (ISE): Enables IT to offer mobile business freedom with policy for when, where and how users may access the network. Enhancements improve user experience by allowing them to easily self-provision. Device sensor capabilities offer the most accurate identification of new device types in the network, including a wide range of device types, offering the industry's most scalable and comprehensive view across the network.
New Mobile Device Management (MDM) integration: To protect data on mobile devices and ensure compliance, Cisco partners with several Mobile Device Management vendors. This approach gives IT greater visibility into the endpoint as well control over endpoint access based on the compliance of these devices to company policy (such as requiring pin lock or disallowing jailbroken devices), and the ability to remotely wipe data from lost or stolen mobile devices.
New Device Profiling Sensor: Cisco Wireless LAN controllers now support scalable network embedded device sensors that assist with device identification and classification.
Cisco AnyConnect Secure Mobility Client: Make the VPN experience simpler and more secure with the enhanced remote access technology of Cisco AnyConnect™ VPN client.
The BYOD trend within the workplace is certainly not going anywhere. A recent global survey of CIOs found that 28 percent of their workforce is currently using personal devices for work-related tasks, and this percentage is expected to rise to 35 percent by mid-2013. Therefore, it is important to implement a BYOD strategy within your company to insure security and increase productivity amongst your work environment.
As a Gold Cisco Partner, we offer a broad portfolio of mobility products to help service providers, small to medium-sized businesses as well as enterprises, develop a holistic, scalable approach to their mobility initiatives while keeping operational costs in line and optimizing the user experience.
Contact us to set up the right tools for BYOD in your workplace today!