Take Meetings to the Next Level with TelePresence Video Conferencing
May 25, 2012
BY MOLLIE DOBERSEK
Whether you are new to video conferencing or are looking to upgrade your current solution, chances are you have come across the term 'TelePresence' in your research. TelePresence creates a virtual meeting experience unlike any other, creating the illusion that remote participants are in the same room together. By creating meetings so true to life, participants often feel as if the meeting actually took place face-to-face.
Regardless of if you're separated by a hallway, a street, or several time zones, the Cisco TelePresence EX Series is a family of personal TelePesence for the desktop lets you and your colleagues instantly collaborate face-to-face.
The EX Series is an all-in-one tool that streamlines the desktop so you can fluidly move from individual work on your laptop to a quick video call with a colleague, to problem-solving over shared spreadsheets. The EX90 is designed for the team leader or manager for immediate presence with customers, partners, and employees. With the EX60, you can share the power of TelePresence throughout the organization, designed especially for the knowledge worker or individual contributor.
This series offers a full high-definition 24-inch or 21.5-inch screen. You can use it as both a PC monitor and a TelePresence system, giving you more flexibility at your desk.
Features and Benefits include:
• Video resolutions of 1080p30 and 720p60 bring the Cisco TelePresence experience to the desk.
• The 8-inch Cisco TelePresence touch screen interface allows for simple control.
• A high-quality PC screen with clear high definition resolution enables a transparent, one-tool device to work, meet, and collaborate.
• A Cisco TelePresence Precision HD camera enables video clarity and optimal F1.7, 45-65° or 50° field of view.
• Collaboration is natural with high definition content sharing, transparent one-touch sharing of high-definition content, and a built-in document camera feature.
• Dual front speakers provide for superior audio, even including an integrated subwoofer on the EX90
• A wideband handset is included; you also can add a headset input for privacy.
No matter what your role, the Cisco TelePresence EX Series will become an integral part of your workflow. It helps to enable faster decision making, enhances relationships, and improves efficiency. Request a quote, demo and additional information from us at DataVox today!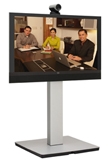 Turn a conference room into a TelePresence room, and call team members to a meeting on a brilliant 42-inch or 55-inch screen, all in about 15 minutes time with the Cisco TelePresence MX200. This model was designed and priced to bring the benefits of TelePresence to more teams and meeting rooms. It's an ideal way to broadly deploy the Cisco TelePresence experience throughout your organization, or make your first move into life-like video communications.
The MX200 offers:
Support for up to vivid 1080p video resolution, with 30 frames per second and 720p video resolution, 60 fps, and HD content sharing
Clear 1920 x 1080 resolution on a high-quality 42-inch or 55-inch display
Integrated design providing a consistent, high-quality video experience, regardless of room environment
Optimal preset framing and video clarity from a Precision HD camera
HD sound system with two front speakers for superior audio performance
The Cisco TelePresence Codec C60 delivers flexible HD video and superior audio for collaboration that feels natural, whether you're in a team meeting room, a boardroom, or an industrial setting.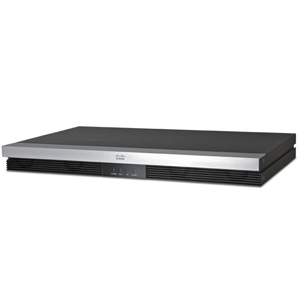 The Cisco TelePresence Codec C60 supports both full 1080p HD and 720p video, to help ensure the best video quality regardless of environment. Professional connectors and the ability to connect up to four HD video sources and four microphones help you make complex integration projects succeed every time.
The Cisco TelePresence Codec C90 is our most powerful and flexible collaboration engine, serving TelePresence studios, boardrooms, auditoriums, and education with 1080p HD video and ultra-wideband audio.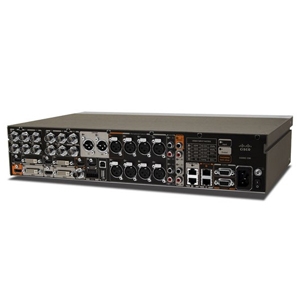 With five simultaneous video inputs, the codec can support highly personalized and interactive team collaboration and content sharing. The interface accepts 12 direct HD sources and 8 microphones. The possibilities for integration and customization will stretch your imagination.
Click here for a list of other TelePresence models available at DataVox.
Is TelePresence the right solution for your company? A TelePresence system can certainly benefit upper-management, but it is also useful for other levels of management. Like traditional video conferencing, TelePresence can enhance collaboration, resulting in more efficient meetings. The idea was to create a conference room environment that delivered an experience so true to life an executive could use the solution instead of spending time and money traveling to meetings across the globe. A company would make the investment because the return would justify the expense.
If you decide that TelePresence is the right solution for your business or you would like more information and/or a demo, DataVox would be happy to assist you. We can work together with you to make this face-to-face collaboration for your business possible! Contact us today or get a quote via our website.